We have all been in the situation when the sales process goes well until suddenly it doesn't, and you lose the prospect.
Unfortunately, it's hard to trace your misstep and even harder to predict the outcome of any other potential presentation. And somehow, it feels like we don't have control over the sales process at all.  But what can we do to change it?
The truth is as long as the salesperson is well informed, they have the upper hand in any conversation.  According to the Sandler method described in the "Asking Questions, The Sandler Way" written by Antonio Garrido, specific and well-timed questions are the key to having an upper hand in a sales conversation.
So, let's break down the questions and figure out how to stay in control of our sales process!
Worksheets are available to download later below.
Use the Upfront Contract
The purpose of the Up Front Contract is to agree at the beginning on how what the initial conversation will look like.
To avoid miscommunication you should clearly understand the motives of your client, the purpose of the meeting, potential outcomes, the time, duration, and location of the meeting. The client should also know and understand these aspects, and this is what the Up Front Contract is all about.
To create your own Upfront contract ask your buyer these simple questions: :
"So, Mark, it sounds to me like it might make sense for you to invite me over so that we can have a face-to-face meeting about the new manufacturing plant that you're planning. Is that fair?"
"So, Tom, exactly where and when would be best for us to meet?"
"Let's just agree on our top most-important items on the agenda. Is that fair?"
"Just so that we make sure that we are both on the same page, let's agree on what the next steps might look like if we're a good fit. Are you comfortable with this?"
"Experience tells me that we will be able to figure out in maybe 10–15 minutes whether or not we are a good fit. If we're still talking after about 40 minutes, we'll probably want to begin the process of working out how we can do some business together. Does that sound fair?"
"Are you planning to invite any others to the meeting?"
"Typically for the first meeting, we find the best way to go about it is if I ask you some questions around the issue—you know, to try to see the business issue through your eyes. Are you OK with that?"
"Is there anything else you think we need to add to the agenda?"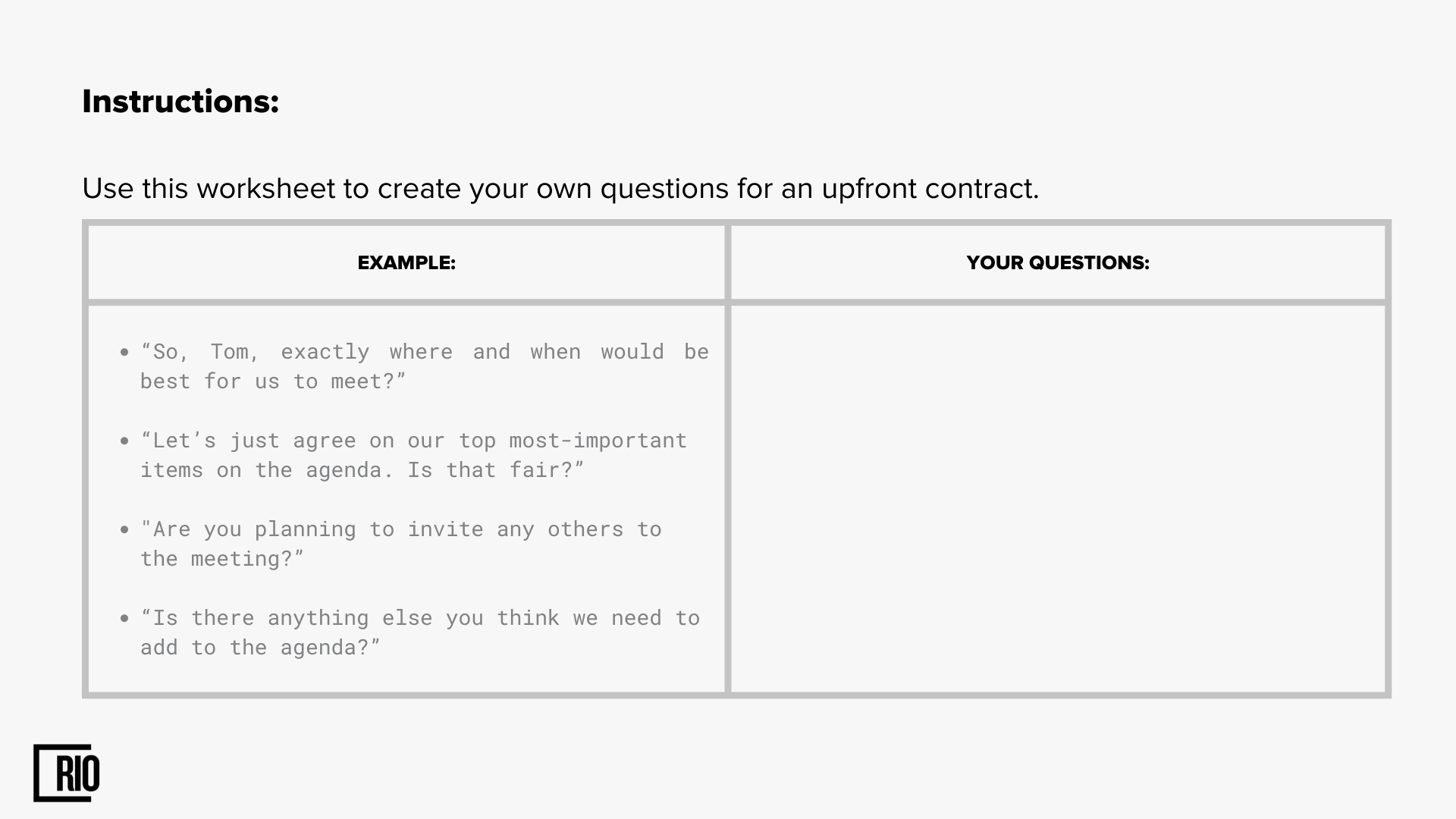 Explore the client's pain
Pain is the gap between where the individual is and where he wants to be. Basically, pain is a discovery of what is going on in real life. To be in control of the selling process, you need to study your client. Buyers rarely tell the truth, so they will offer the seller, in the best case,  80% of it. And answers to seller's questions usually lie in that unspoken 10 %. The best way to uncover the truth is to make prospects talk about themselves. This is why the second step of conversation with your prospect is talking about their pains.  
And, most importantly, pain makes people look for solutions, which you can potentially deliver.
You must understand that pain has three different levels and each of these levels has to be hit with a targeted question:
Initial pain
This level allows you to learn the surface level of prospects' problems, which later will lead you to the core of their pain. To investigate this level, you may use some of these probing questions:
"Tell me a little more about what you have experienced - why are we even talking right now?"
"What's the one thing you wish were better with your current provider?"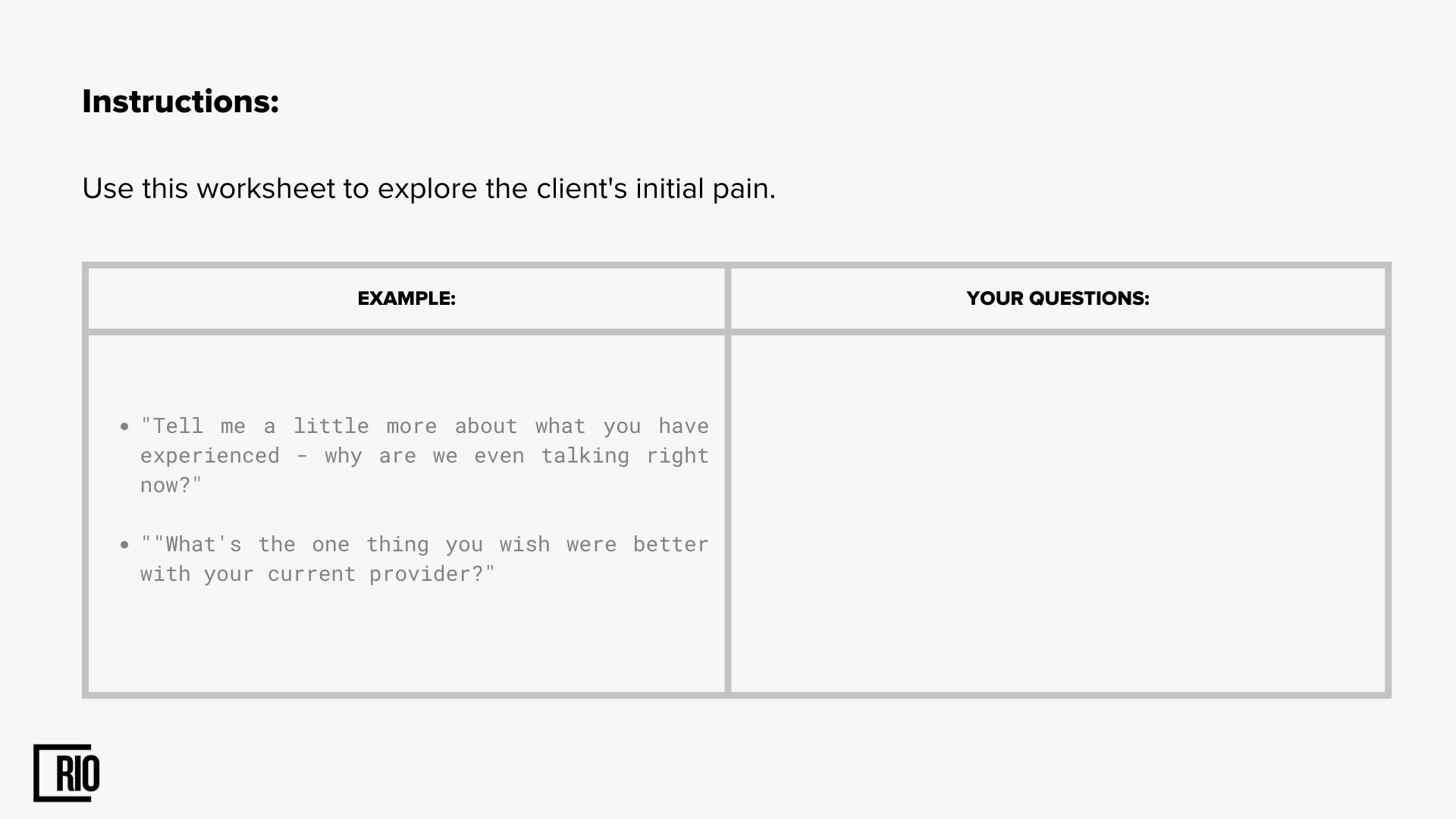 Pain on the business level
You explored initial pain and that conversation led you to this level. Now it's time to start digging into the pain as it relates to the business and expand the issue using the following questions:
"How long has this been a problem?'
"What have you tried to do about it? Did that work?"
"How much do you think that this has cost you in lost opportunity or revenues - or threatened loss in revenue over the next few months?"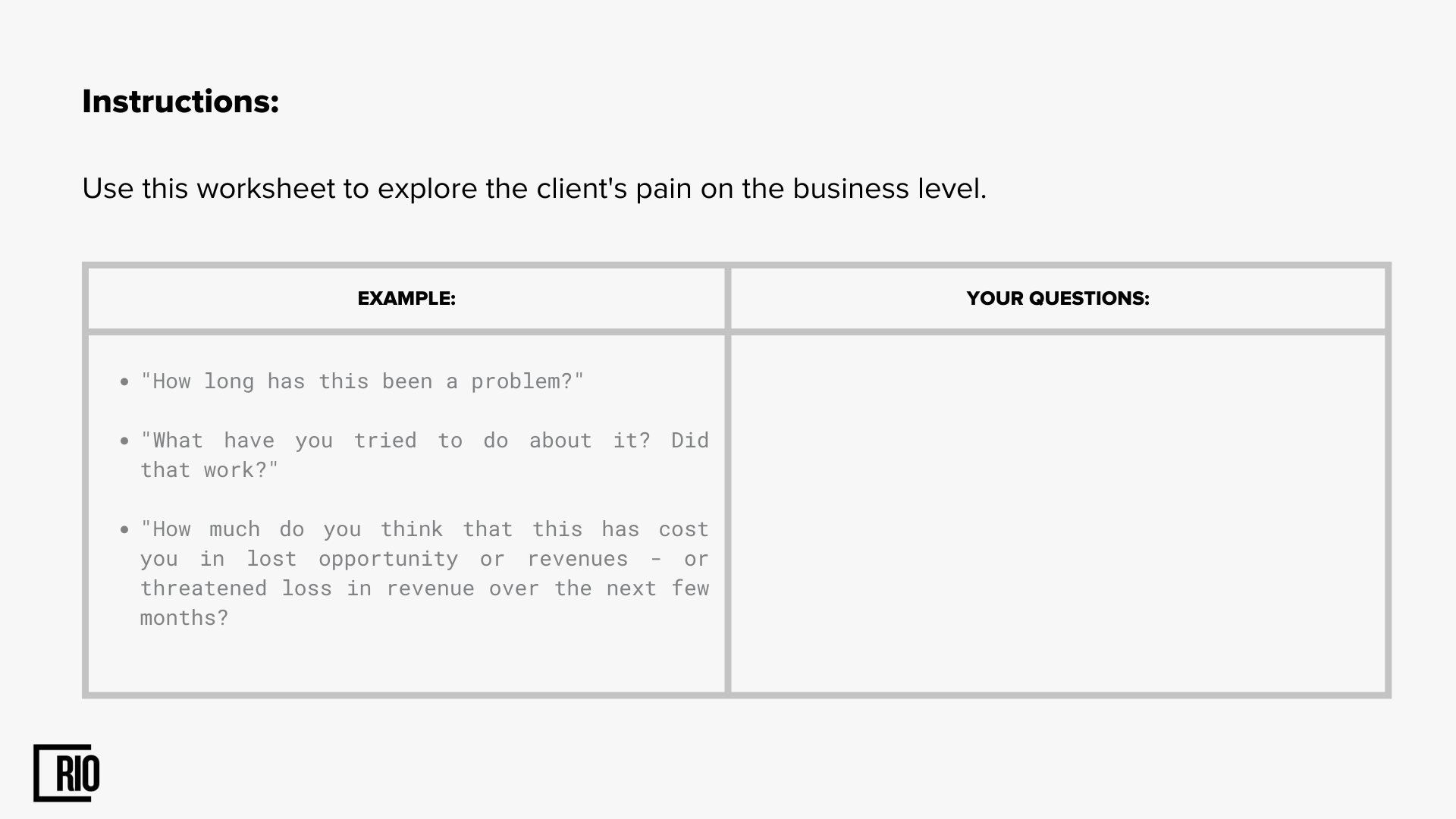 Pain on the personal level
At this level lies the core of the prospects' pain. You've learned the problem and now you can understand the consequences of not dealing with it.
And these consequences certainly have personal implications for the prospect, financial losses, missing out on a promotion, etc. for instance. Use probing questions to have a better understanding of this level:
"How would you feel if the revenue losses continued to occur?"
"Would it affect your performance review if this happened?"
"Have you given up trying to fix this?"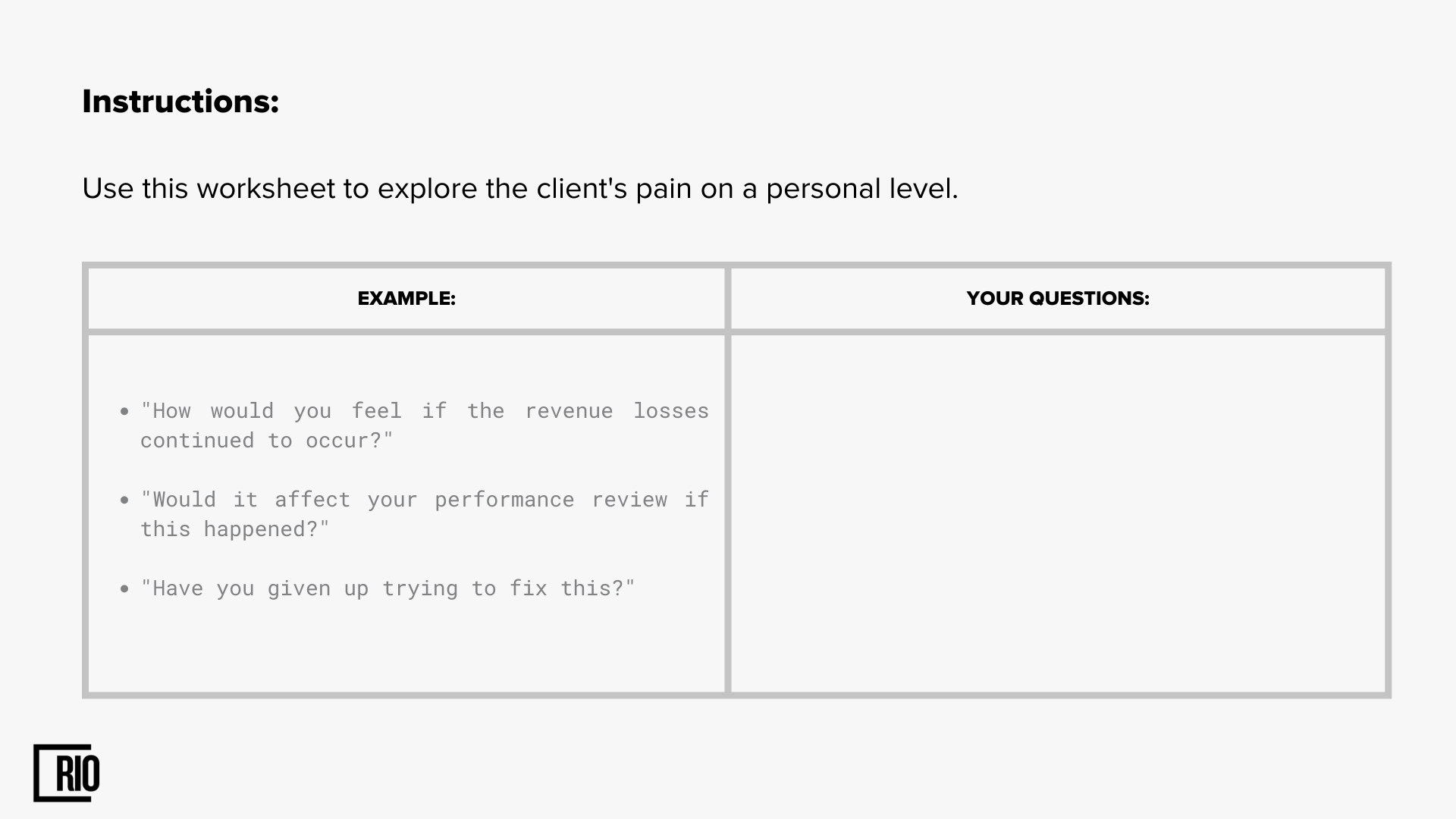 Determine if your prospect is ready to take the action
You went through an exploration of the pain, and now it's time to move the conversation in the way of action. And by action I mean budget.
There are two types of clients: those who are willing to invest in a solution, and those who are both willing and able to do so. To determine the type of your clients, you can use some of these probing questions:
"What kind of investment were you expecting to make for this project, Tom?"
"To use a hotel analogy, were you expecting to make a 1,2,3,4, or 5-star investment for this, Jamie?"
"Will you share with me the sort of range where this budget might start and then go up to in your experience on projects like this, Sam?"
This stage will allow you to understand if you can move towards a real discussion with your client or if it won't be necessary.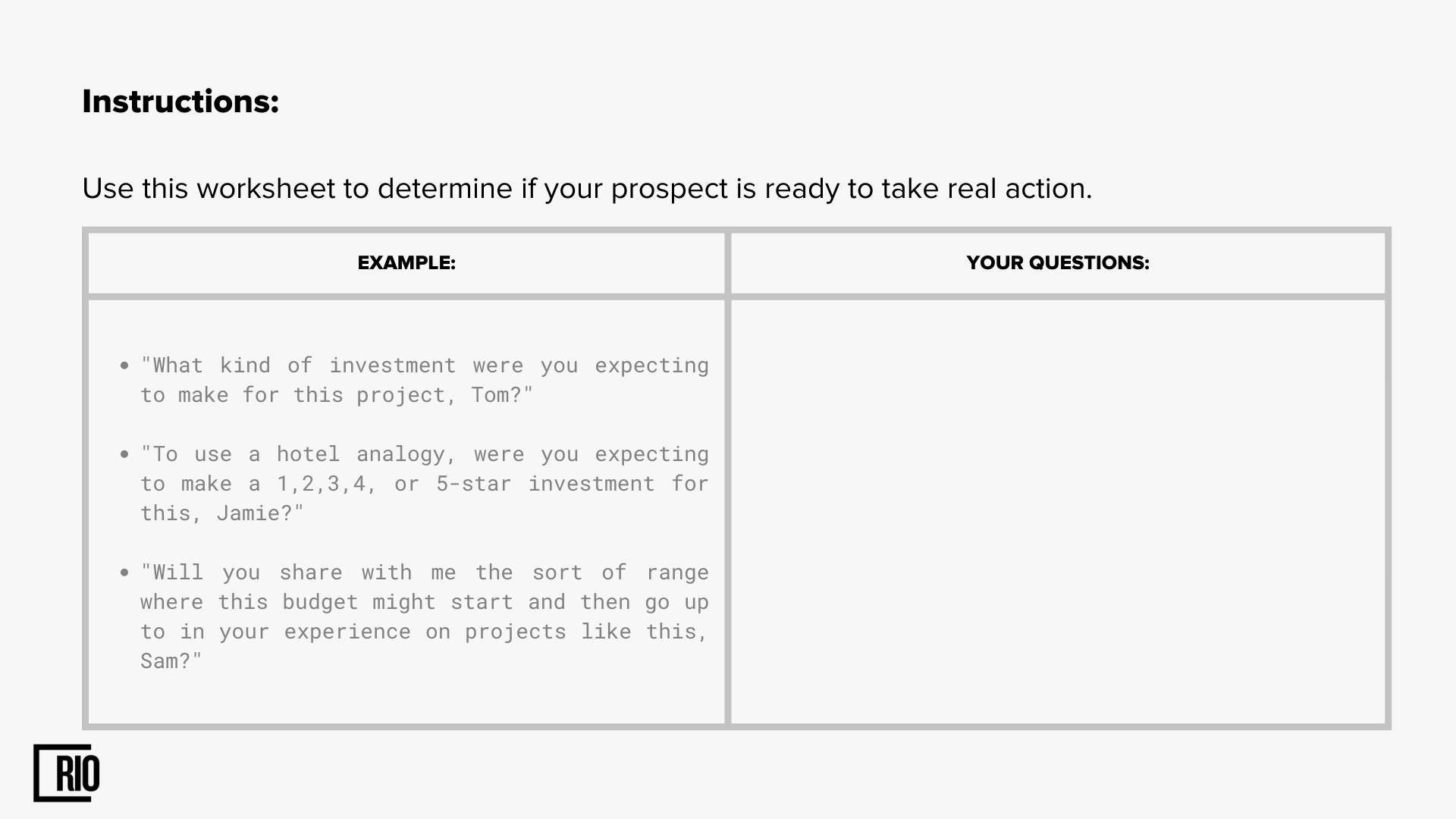 Time for your decision
At this point, you either disqualify or qualify the prospect for a detailed presentation.  You assessed your potential buyer and have enough data to make the right call. But do not forget to ask your prospect a few easy questions to be sure in your decision:
"When would you like to see the benefits of a solution implemented, delivered, or in place?"
"What should the presentation I need to make look like?"
"Where should it happen?"
"Who will be there at the presentation?"
"Why does it all have to be done this way?"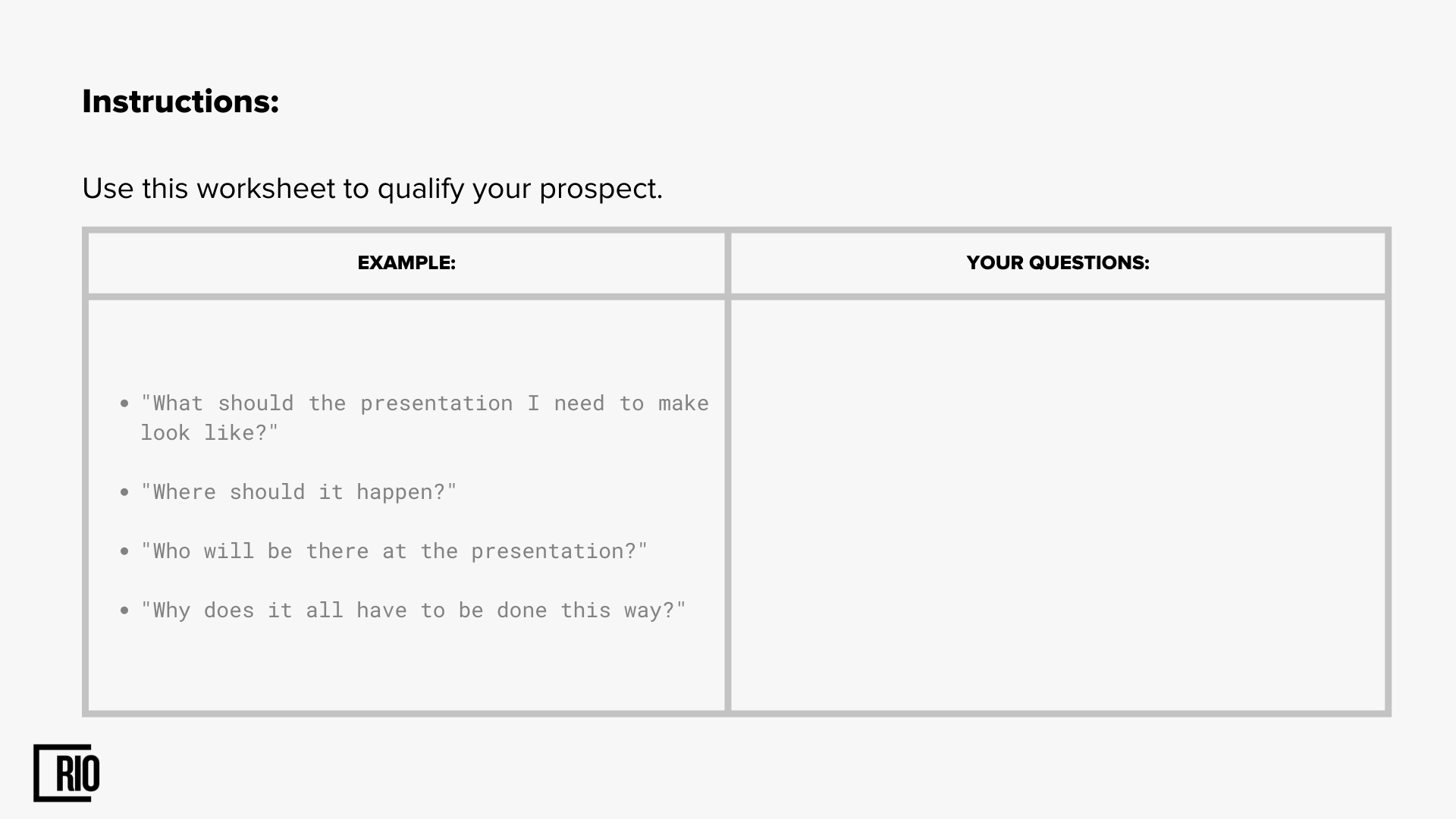 Detailed presentation
If your prospect is qualified for a presentation, which means being able and ready to invest in solving their problem, then you can move forward with a detailed presentation.
At this point, you need to pay extra attention to reactions and gauge the temperature of your prospect. Every step of your presentation is a chance to ask more questions about prospects' thoughts on your product (solution to their problem).
To assess the prospect during the fulfillment stage - ask them similar questions as in stage two.  
Deal with buyer's potential remorse after-sale
Well, you made a sale, and now you need to be two steps ahead of your client. Deal with their remorse before it even happens. For example, ask the prospect:
"Can I tell you my biggest fear, Terri? I'm worried that I might have pressured you into this deal. Could that be true?"
This type of question will either make you a real sale or will cancel it altogether.
Also, don't forget to prepare your client for what they will say to their boss and your competitor. They may find it unexpected that you and your client have already moved forward. To prepare your prospect, ask them this:
"What will you say when (name of a competitor) decides to drop their price at the last minute to buy your loyalty?"
"What do you think your boss will say to you when you tell them that you've decided to go with us? And what will you say to that?"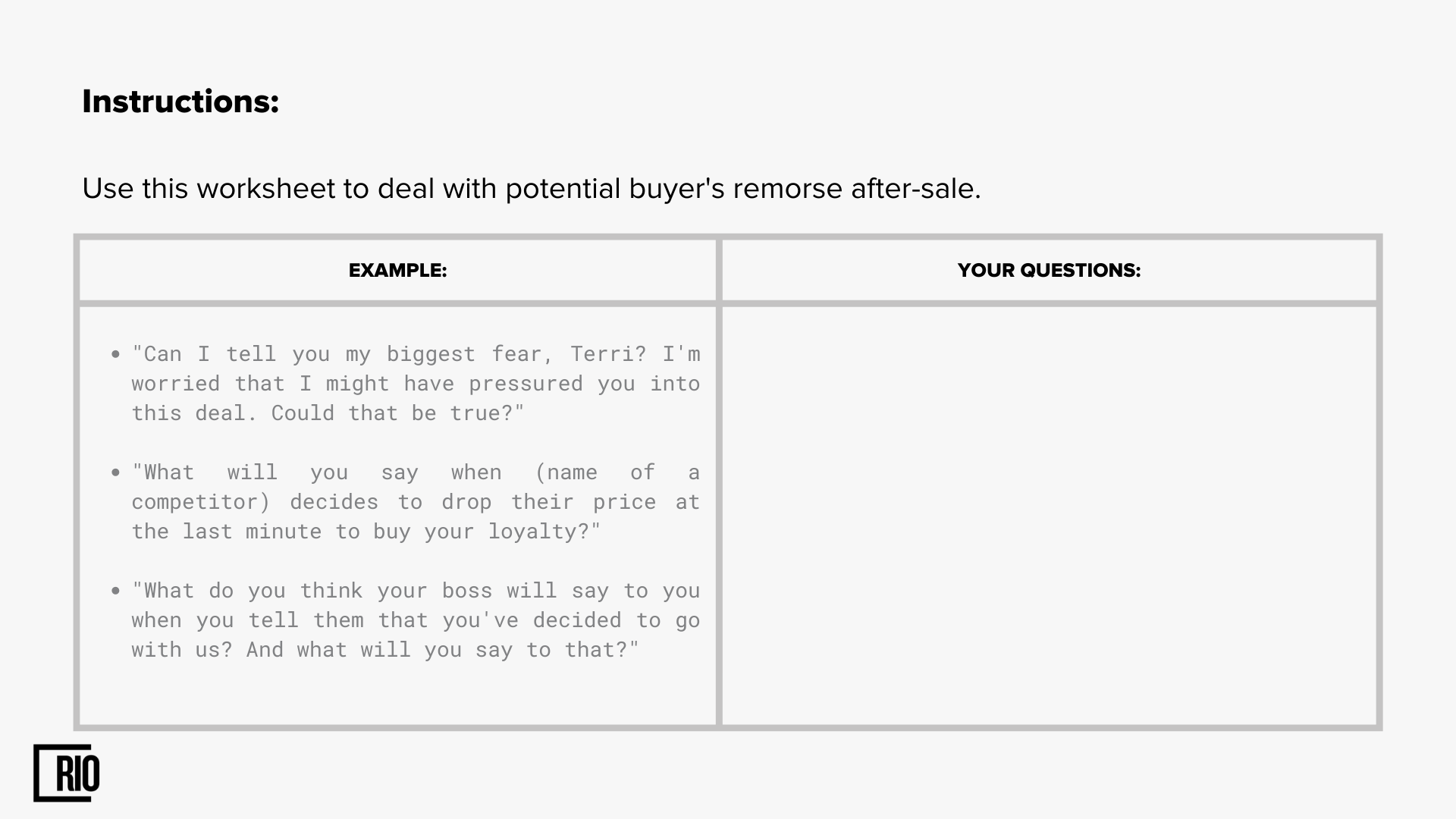 💡
Pro Tip: Before you get going with your conversation, you've got to get permission to ask a lot of questions. Remember, If you are granted this permission, then there is no issue in asking any of your questions.
People might misunderstand when you say  "some questions" or "a few questions" but nobody misunderstands "a lot of questions".
As Antonio Garrido says: "Selling begins when you start asking good questions". Study your client, engage them in meaningful conversation and ask them the right questions at the right time. And to do so, try using the examples mentioned in this article!
Download worksheets
---