If you are pitching a new contact with a personalized cold email you need to know a few things. What content you are personalizing your email on, how do you do that and what is the structure of your email?
In this article, I will cover the structure and walk you through the basic flow of personalized email.
Creating a consistent flow and keeping up the structure of your email are the difficult parts of creating personalized emails. Because there is always an element of doubt which can look like this: Did you cover the topic in the right order?  Did you personalize the email enough? Did you place the value proposition in the right section of the email?
To know what to include in your email, first of all, you need to have the structure of the email. We all know how easy it is to get lost in information and lose the right sight of the topic. If you will have a proper structure for the email, you will be able to create an efficient personalized email without unnecessary information.
There are always a million thoughts in a moment, right? So, let's check out the structure that will help you to keep your personalization process in control.
The perfect and easy structure for personalized email consists of three main paragraphs: the intro, the body, and the call to action. And sometimes professionals in personalization tend to include in their structure a fourth paragraph called the push-pull technique, but will touch upon it later in the article.
Worksheets are available to download later below.
Now I offer you to take a look at every paragraph of the article one by one:  
Intro
As I said, a personalized email consists of 4 main paragraphs and the intro is the most important of them. It is the starting point for your email and includes the main amount of personalized text. This paragraph is designed to intrigue the prospect and engage them in reading more.
In the intro, you need to use personal information and turn it into a cool start that later ties in with the body of your email/ the part with the value proposition.
Example: Hi Rex,
Read your book and love it! The way you simplified outbound sales is just genius. As Einstein said, if you can't explain it simply, you don't understand it well enough…
Body
In the body of the email, you need to map your company's value proposition to the intro of your outreach. Be as curt as possible - prospects don't have time for reading novel-like emails. Make sure to actually tie the body to the intro and carry the logic of your words through the whole email.
Example: In your recent post on LinkedIn, you recommend saying something specific about YOU or about ME to stand out in your next ad or cold email. A hack that I recommend is to use your customer's words to write an ad or cold email. It helps to maximize relevancy and ensure you only use words that resonate with prospects. It also saves hours on copy creation.
Call To Action
The call to action, in this context, is a request to unpack the content you've written above.  In the third line of your email be sure to map out very briefly what you want to discuss in the future meeting. Remember, you don't want to give your prospect the whole picture of your future presentation, instead, you want to intrigue them by giving them a little snippet of information.
💡
Pro tip: This should be the shortest line out of all four.
Example: I would like to show you how this hack could help you and your team save hours on copy creation.
Push-pull technique
This technique sometimes can be the best way to finish your email because here you would show that in any case you still like the prospect's work. That you are not writing to get money, connections, etc.  The finishing lines tend to help the prospect to make a decision and sometimes the finishing line can screw up the whole personalized email.
Show your prospect that in any case, even if they don't want to have a meeting with you, they are still the best and it's your pleasure to send them this email.  In this part, you can include caring language, such as: take care of yourself, hope you're doing OK during this crazy time, etc.
Example: If you are not impressed, I promise I won't blow up your inbox with follow-ups.
Does this sound worth exploring?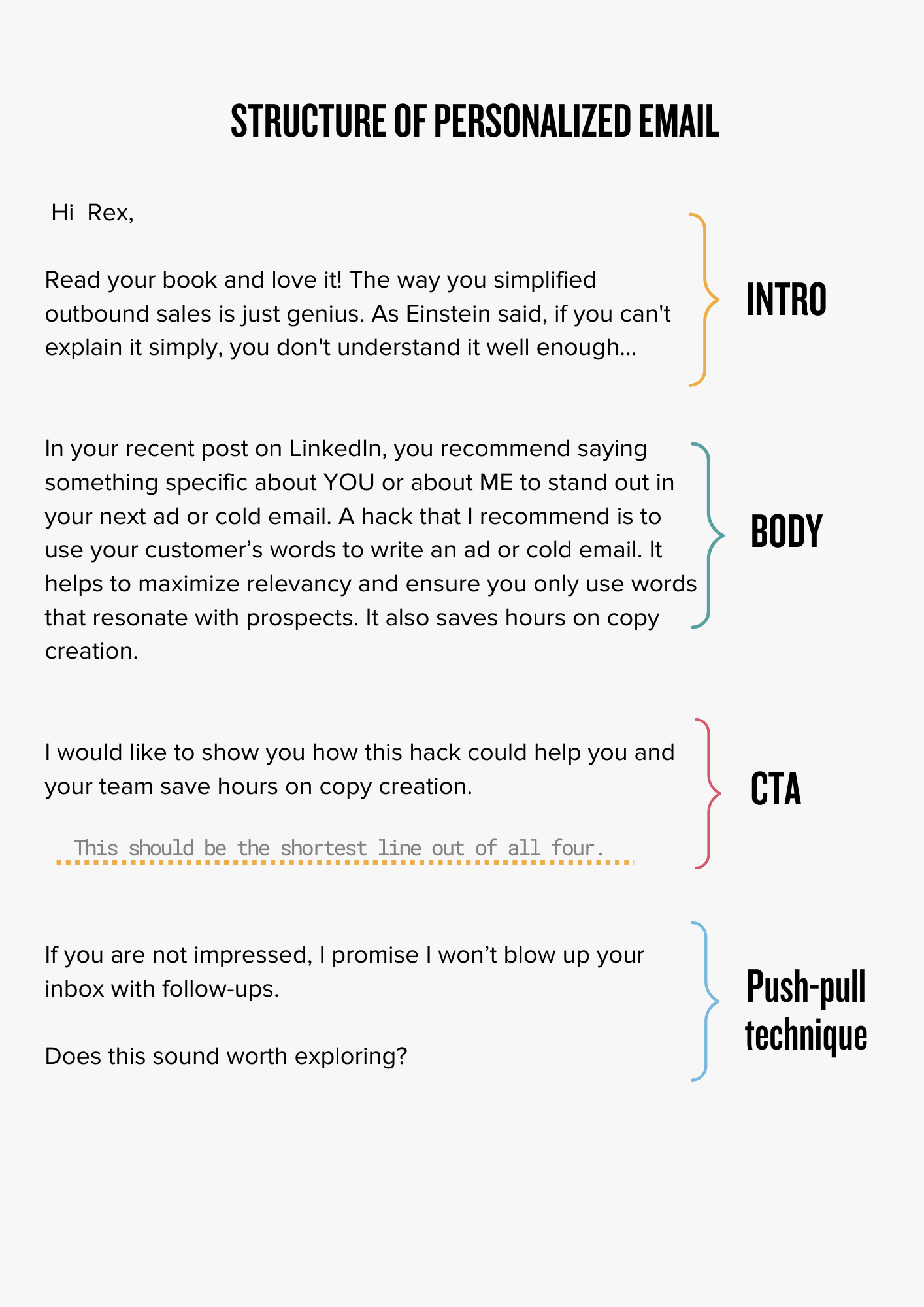 My advice here is while creating a personalized email follow the simple structure and write in simple words. You actually never know what will work in your email - either you will hit the right personalization information, or you will attract the prospect by simplicity.
Try out this simple yet efficient structure and create your emails better than ever before! Also, learn more about the four main components of personalization with this article.
Download worksheets
---